Best interview questions to assess dental hygienists experience level

Katie McPherson,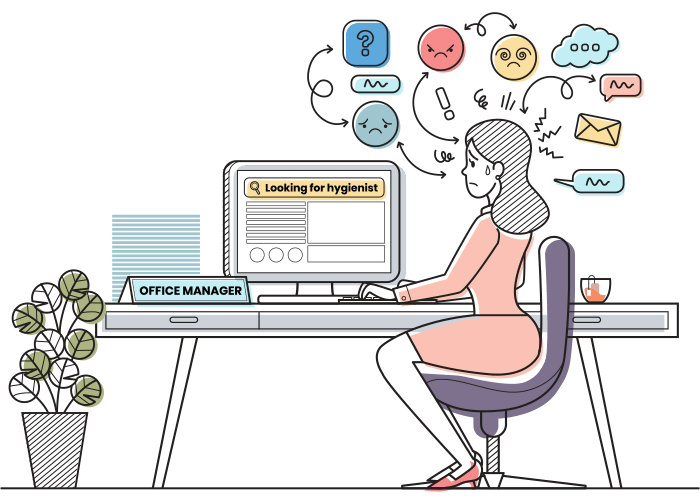 Level Up: A 4 Step Interview Guide to Identify Expert Dental Hygienists
Dental Hygienists are unique professionals that typically become licensed and certified to the fullest degree at the beginning of their careers. Because of this, their expertise can be difficult to assess based on their resumes alone. In most cases, a novice dental hygienist and a master hygienist have exactly the same license and certifications. Sorting through a stack of resumes that essentially have the exact key skills and credentials can be daunting especially when your goal is to find professionals worthy of becoming part of your highly skilled team.
Inhale . . . 1, 2, 3 and exhale . . . 3, 2, 1. There's good news! It doesn't have to be intimidating or feel like an impossible quest to find top experts. Use this 4 step guide during your interview process to divide the talent and you'll be leveling up your team by landing a true master of hygiene.
1. Don't Confuse Years of Experience with Level of Expertise
The level of experience a dental hygienist has, very often, does not correlate with the number of years the hygienist has been practicing. Level of expertise increases with the amount of time an individual has spent improving their skill set and investing in continuing their education. Many hygienists stay in what I like to call The Comfort Zone. Hygienists can stay in this warm and cuddly place their whole career. No growth happens here. Hygienists in The Comfort Zone remove calculus from teeth, make small talk with their patients, clock in and clock out. Beware! 30 years of experience could simply mean 30 years of bad habits and 30 years behind the times. When looking for an expert, don't be too quick to toss out a resume with 5 years of experience, and don't assume a lengthy career is the equivalent to a skilled professional. Simply ask a few questions like the list below to identify the amount of time the candidate has invested in their personal and professional growth.
What was the last continuing education course you attended?


(If their last course was online on December 31st on renewal year and they don't remember the content, it's fair to say this candidate might be someone who just goes through the motions.)



What intentional habits do you have to promote self improvement?


(A simple answer such as being intentional about making their bed each morning to improve motivation or practice self discipline is a great example of someone who finds personal and professional growth important. This is a quality an expert level hygienist would have.)



Where do you see yourself in 10 years?


(It's okay for the answer to include the clinical role you are hiring for or not. What you're really looking for is the candidate envisioning themself growing over the next 10 years. Listen for words like: leading, expanding, advancing, nurturing, developing, flourishing and impacting.)



2. Have a Mock Case Prepared
Utilizing mock cases is such a valuable exercise to evaluate a candidate's level of expertise. Create a mock patient within your system with completed medical history, full mouth series, panorex, intraoral photographs, periodontal charting and identified patient goals. Allow the candidate 10 to 15 minutes to review the case. This exercise allows you to understand the candidate's level of clinical mastery such as their ability to identify contraindications due to medical history, dental decay and periodontal disease just to name a few. You can take this exercise a step further by asking the hygienist to present to you their recommendations as if you were the patient. This allows you, as the interviewer, insight on the candidate's skill in clearly articulating thoughts, their ability to help the patient overcome obstacles to meet their goals and their level of empathy and compassion for the patient. Ask questions like these:
Are there any contraindications to treating this patient?
What Periodontal Staging and Grading classification would you give this patient?
Are there any concerns that you would make the dentist aware of before their examination?
What unique skills do you have to help this patient meet their goals?
3. Role Play
Simply asking the hygienist candidate if they are comfortable role playing or if they enjoy role playing is a quick and easy way to identify their level of expertise. Novice hygienists will not understand the concept of a role playing exercise. Intermediate hygienists may know about role playing and may entertain the idea of participating, but they will show extreme discomfort due to their lack of experience and knowledge. Masters of hygiene LOVE role playing. They find fun in the challenge that it presents, and they enjoy showing off the skills they've worked so hard to develop over their careers. Use these examples of role playing in your next interview to identify the hygienist's level of skill:
Interviewer's Question: How would you offer a patient fluoride?
Expert Hygienist's Answer: "I'd like to apply fluoride to your teeth to help desensitize and protect your exposed root surfaces that you are concerned about. How does that sound to you?"
Note how an expert explains why this recommendation is specific to this particular patient's needs and concerns. This hygienist then asks permission to allow the patient to feel in control before moving forward.

Interviewer's Question: How would you respond to a patient refusing XRays?
Expert Hygienist's Answer: "Dr. Smith did ask me to take a new set of XRays for you today since he was concerned about cavities between your teeth at your last visit. Tell me why you're wanting to hold off."
Note how an expert does not firmly state the office radiograph policy but softly probes the patient to discover their obstacles in order to overcome them for the benefit of the patient.

Interviewer's Question: I'd like you to come get me from the waiting room as if I had an appointment with you.
Expert Hygienist's Answer: With a smile, the expert hygienist will make sure to break the threshold of the door and walk into the waiting room towards the patient. The hygienist will make eye contact and warmly announce the patient's name. The hygienist will extend for a handshake or will give a friendly wave. The hygienist will introduce themselves and share their excitement for the opportunity to care for the patient. The hygienist will walk side by side with the patient as they continue their greeting while walking towards the operatory. The hygienist will extend their hand to invite the patient in to have a seat.
Note that this simple role playing can give insight on the candidate's interpersonal skills. A less skilled hygienist does not use this initial greeting process to develop rapport or trust with the patient. A novice candidate will not understand the value that this minute of time holds for the patient's overall experience in the dental office.
4. Conduct a Working Interview
Nothing gives more insight than allowing the candidate a day to interact and care for your patients. Make sure that you are one of the patients for the day. You will get a front row seat to experience the hygienist's bedside manner, communication skills, clinical techniques, and interaction with the doctor and other team members. No method will reveal a candidate's level of expertise better than a working interview.
The key to finding expert dental hygienists is using expert interviewing skills to easily identify them. Remember, don't rely on years of experience printed on their resume, but ask questions that will reveal their commitment to growth and development over their time within the dental field. Take the time and prepare a mock patient before the interview. This exercise will give you a clear understanding of the candidate's clinical mastery. Ask the candidate if they enjoy role playing to know if they embrace improving their skillset. And after all the questions, the best way to know the level of expertise a hygienist has, is to experience their care first hand. Jump in their chair and give them an hour to care for you. Trust your intuition and allow the experience to speak for itself. If it's top-notch, you've found an expert. Now, level up your team and extend an offer!
_________

As Valedictorian, Katie McPherson sent her Class of 2006 into the world with the challenge to not let fear be an obstacle or a restraint. In the coming years, she held strong to her own advice. In 2010, she walked the stage of the University of Cincinnati receiving her diploma and holding her Dental Hygiene License. Through fearlessness, Katie has quickly proved she is a force to be reckoned with in the dental setting.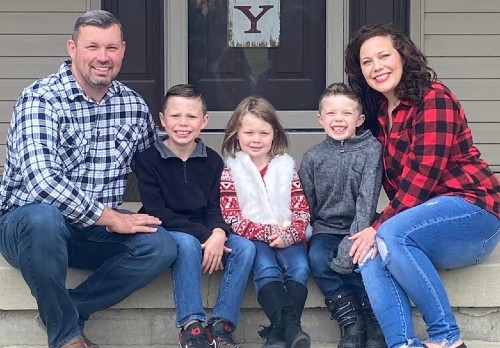 She has had the privilege to lead a team of 11 hygienists and takes pride in teaching and training the best of the best. She serves her patients through nurturing relationships and loves being a vital first impression for her dental practice. Her charge years ago has continued to be her motivator as it is important to her to stay out of her comfort zone and grow. She's kicking Fear's butt!

When she's not busy coaching her team and improving the health of her patients, she stays active with helping her husband raise their three young children and serving through a variety of opportunities within their church.