Stop'em in their Tracks: How to Create an Enticing Dental Hygienist Job Post

Katie McPherson,
Dec. 7, 2020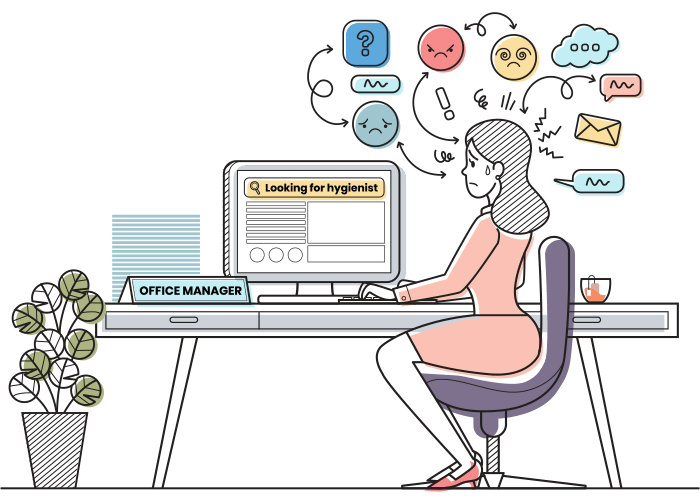 Where in the world are all the dental hygienists? It's a hard knock life these days for a dentist looking for a hygienist, especially if the dentist is looking for a top-notch hygienist. It would seem like the market is just lacking, or every hygienist is over the moon at their current practice. It most possibly could be that the career posts that are being made are not drawing the interest of dental hygienists because actively growing dental hygienists are always looking, and ultimately, these are the hygienists dentists are seeking when they are creating career posts. Therefore, career posts must be showstoppers, catching the eye of amazing hygienists. They must be so alluring these professionals not only read the posts but also apply for the position.
The Desires of Dental Hygienists: What are they looking for?
Dental hygienists are some of the most conscientious and intentional people I know. They are experts who take career opportunities seriously and carefully consider many aspects of a potential position before making a move. Gone are the days of hygienists being desperate for work. The ball is in their court, and they are looking for the full package. Ironically, I have found many offices that have what hygienists are looking for, but they tend to miss the mark when it comes to selling themselves. Too often, the dentist will post a career opportunity and list all the things that are required to work for the office. I laugh aloud when I see advertisements explaining how fast-paced the office is and how working two Saturdays a month is required for the position. YIKES! Sign me up . . . NOT! What I just heard is you want me to work really hard, and I'll be missing my son's baseball games every other week. Although the office environment may demand a dental hygienist be highly driven and working primetime hours may be a reality of the practice, that type of advertising does not sell. Instead, a dentist should highlight what there is to offer. If a person has a warm and welcoming smile, she should greet others with it. If a business has terrific health benefits, it should immediately tell prospective employees the benefits are available. Therefore, focus on what you have to offer and highlight what the hygienist is wanting. When a dentist is creating a career post, consider including these five highlights in the post.
Culture: I mention culture first because it is incredibly important. Hygienists leave positions that offer everything else on this list if the culture is garbage. Therefore, a dentist should make sure the post truly expresses the kind of culture present in the working environment. If positivity and fun are core values in the office, the dentist should include pictures of the team having a great time in the office setting. If community service and faith are valued by the practice, the dentist should consider including pictures of the last charitable day in the office. Highlighting the practice's culture in the post increases the odds of not only getting more applicants but getting the right applicants!
Quality of Care: A dentist cannot assume every office provides the same quality of care. For example, a dentist might think having sharp instruments, appropriate personal protective equipment, proper appointment times and updated equipment would be a given in any dental office, but sadly that is not always the case. Hygienists know this reality firsthand. By substituting, completing working interviews, and climbing the dental ladder, hygienists have witnessed vast differences in the type of care every office offers. Therefore, hearing these fundamental components are a priority in your practice will provide a greater sense of trust - a certain degree of hopefulness - for prospective hygienists. In fact, as silly as this may seem, simply referencing the quality of care in a career post will most certainly result in less hesitation for conscientious hygienists who are considering applying.
Software: Many hygienists are looking specifically for offices that use software with which they are familiar. The task of learning new software can be daunting. Therefore, if an office's software is popular, the post should reference the software. If, however, the office is using a backwoods' software no one knows about, it would be wise to not mention the software in the post. Including a reference to an outdated or little known program would do more harm than good. The subtle goal in including a reference to software in the post is to advertise a seamless transition by presenting comfort and familiarity to the applicants. It is the equivalent of saying, "You would fit right in. You already know the software."
Pictures: They say a picture is worth a thousand words. Dentists and hygienists know this to be true; we skip explaining the size of a cavity to our patients and throw a picture of it up on the big screen. We know the picture will do the talking. If a dentist chooses to display pictures in career posts, the pictures will also do much of the talking hygienists need to hear. Pictures can reflect organization, pride, culture and the overall vibe of the office, and we all know if the employer does not include a picture in the post the first thing an applicant will do is investigate social media or the business' website. Therefore, an insightful employer takes control of the first impression and selects the picture that potential employees will connect to the office.
Pay, Benefits, and Incentives: Specifying an exact hourly pay is not appropriate. Hygienists are expecting that their unique talents and strengths will impact their earnings. Giving some insight as to the earning potential for possible applicants is important, however. Therefore, employers should highlight they offer a competitive wage, a monthly bonus, monthly team celebrations, 401K, vacation time, sick time, holiday pay, and anything else that will set them apart from other offices. Including the full value of employment in your office is an easy way to catch a look and score an applicant.
Repercussions of your Reputation: What is driving possible hygienists away?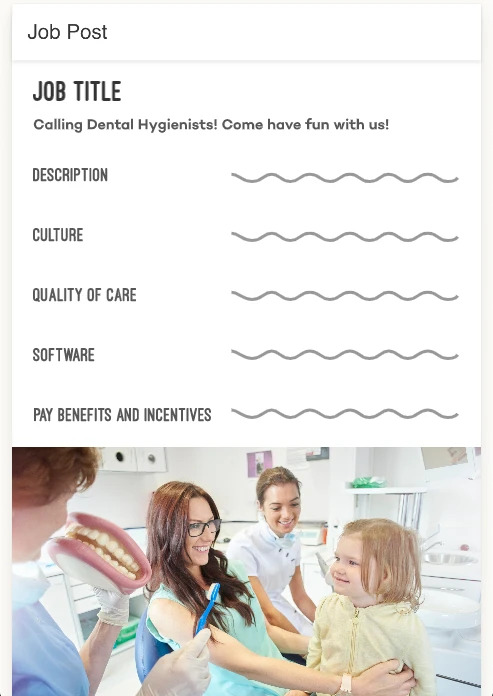 Long before creating career posts and strategically highlighting the best features of the office, the dentist needs to take a close look in the mirror. No amount of clever advertisement, no collection of stunning pictures, no impressive pay, and no smooth talking will outweigh an employer's walk. It is imperative that an employer understands the office reputation in the dental community silently attaches itself to every career post that is created. The dental community is small no matter where a person is positioned in the world. Dental hygienists network more today than ever before. They discuss how easy a dentist is to work for, how generous bonuses are, how much drama is in an office, and a slew of other work-related topics. They know what offices to steer clear of and what offices they should pursue. However, the good news is that every employer is in control of their own reputation. Having a dynamite team is essential to the success of a business, and having a sterling reputation is essential to attracting and maintaining such a team. An employer's reputation, in and of itself, can hinder the effectiveness of a career post.
Places to be Posting: Where are they looking?
Remember when an employer could call up the newspaper and use some pocket change to create an ad? Business owners could count on any job seeker in town to be hunting the subtitle Careers in the Classifieds ‪on Sunday morning‬. Posting positions and finding quality employees just does not work like that anymore. There is an array of possible locations to post an advertisement these days. And though I am sure employers would love for me to tell them there is one absolute avenue to use, I would be lying. Dental hygienists are savvy, and most utilize many different forms of technology to career search. Therefore, consider posting opportunities on all these easy-to-use platforms: Happy Dental Jobs (that's us here ❤️), ‪DentalPost.com‬, and ‪indeed.com‬. Avoid the newspaper, ‪Craigslist.org‬, billboards, and mailers. Today's dental hygienists are not searching these advertisement channels of yesterday. Surprisingly, the most fruitful method of posting a position is often within the current team. Employers who create an advertisement and share it with their team, giving team members an incentive if they assist in finding a permanent team member, are frequently shocked by the quantity and quality of applicants who start responding to the posting.
Quality hygienists are out there, and they are scanning career posts frequently. Industrious dentists should not let their posts be the ones that highly qualified applicants just scroll passed. Catch their eye and slow their scroll by being intentional and strategic with your next dental hygienist career post. And remember, put on that warm and welcoming smile. Highlight what you have to offer. Invest the time to reveal what you value, and do what is needed in order to build the kind of team you most want. Compromise is inevitable, but if you are not obtaining any quality applicants, you will never meet at the negotiation table.
8 Simple Steps to Create a Powerful Career Post for Dental Hygienists
Start with a quote that draws interest and clearly expresses the office culture.
Add photos that support the office culture and gives a glimpse of the best features the office has to offer. Examples include: Updated equipment, special rewards, smiling employees and beautiful interior design.
State who you are and the position you're hiring for.
Be direct and state the culture of the office and why it is an amazing place to work.
List aspects of the office that show the quality of care that is provided. Examples include: latest technology, updated equipment, PPE, ventilation, appointment times and new instruments.
List information about total compensation. Examples include: competitive wage,sign on bonus, 401K, sick time, holiday pay, year end trips, monthly bonuses, free dental care, uniform allowance and parking validation.
List anything else that is positive and unique about the office. Examples include: dental software, no nights, no weekends, daycare provided, botox team days, monthly office celebrations and quarterly massages.
Invite applicants to respond to the advertisement.
3 great job post examples
This job post worked because candidates loved to see the actual people working in the office. Who you work with and office atmosphere sometimes is more important than money.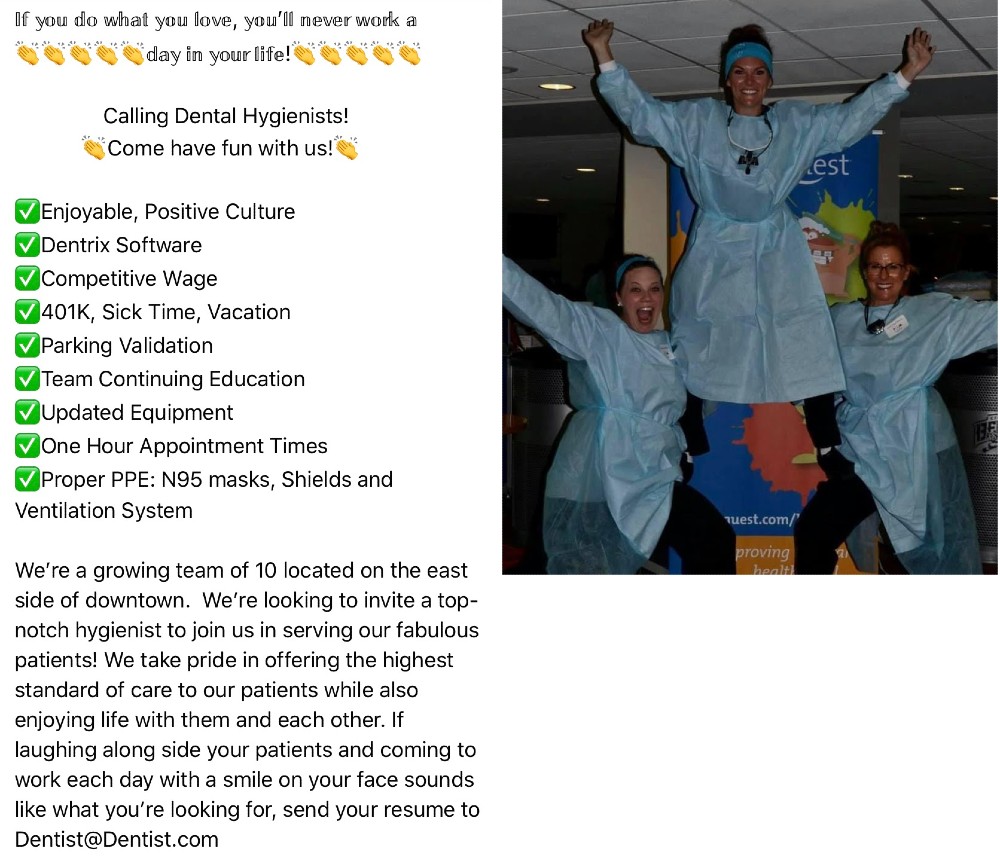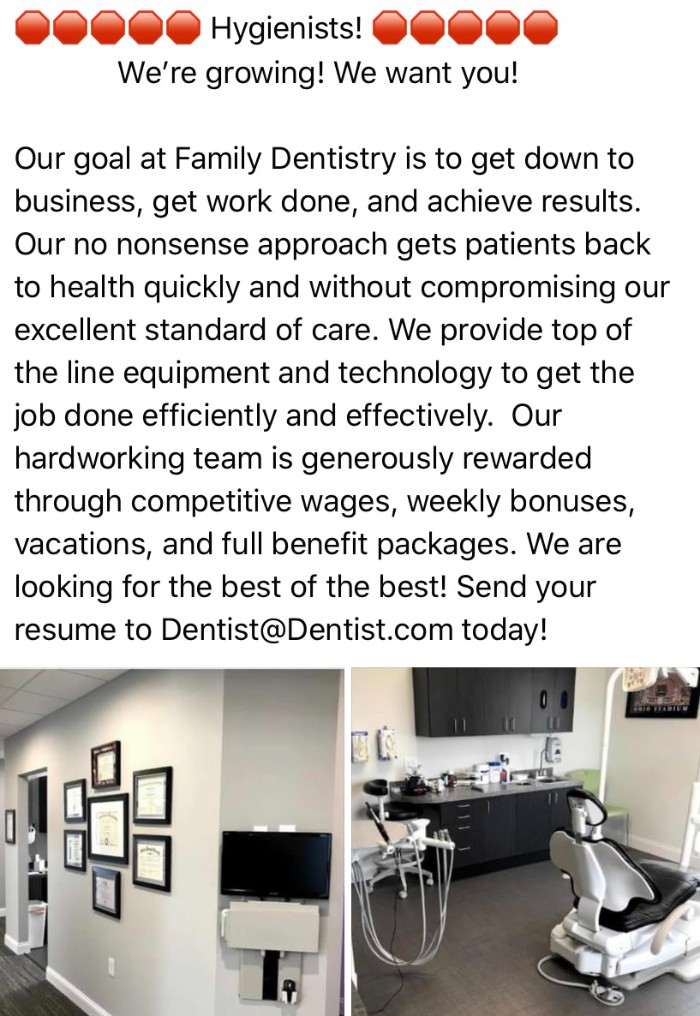 Here's an example hygienist job post we used to hire an amazing hygienist in our office.
Make it fun. Highlight the culture, benefits and work environment.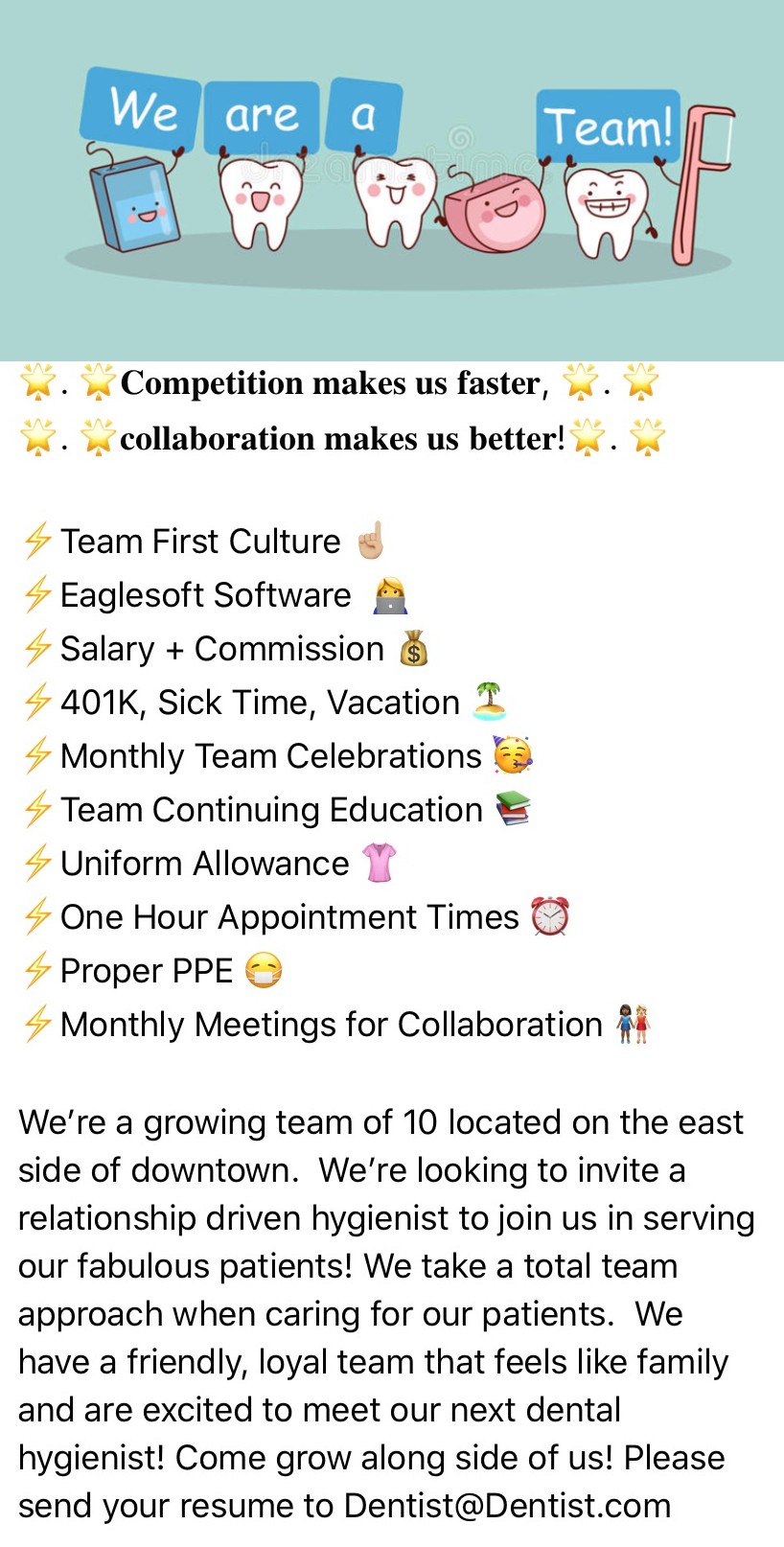 _________

As Valedictorian, Katie McPherson sent her Class of 2006 into the world with the challenge to not let fear be an obstacle or a restraint. In the coming years, she held strong to her own advice. In 2010, she walked the stage of the University of Cincinnati receiving her diploma and holding her Dental Hygiene License. Through fearlessness, Katie has quickly proved she is a force to be reckoned with in the dental setting.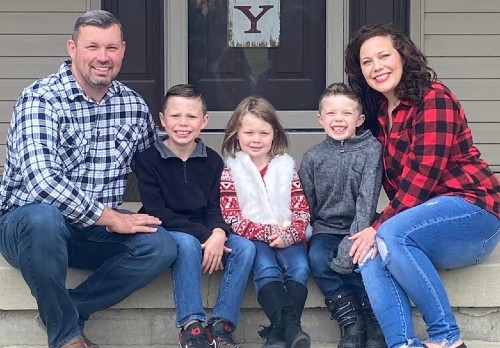 She has had the privilege to lead a team of 11 hygienists and takes pride in teaching and training the best of the best. She serves her patients through nurturing relationships and loves being a vital first impression for her dental practice. Her charge years ago has continued to be her motivator as it is important to her to stay out of her comfort zone and grow. She's kicking Fear's butt!

When she's not busy coaching her team and improving the health of her patients, she stays active with helping her husband raise their three young children and serving through a variety of opportunities within their church.